2020 Gathering Rescheduled
In light of North Carolina Governor Roy Cooper's state of emergency declaration and recommendations regarding large gatherings, we've made the difficult decision to reschedule the 2020 Piedmont Earthskills Gathering (originally scheduled for April 1-5, 2020) to early April 2021.
While we will greatly miss seeing our incredible community come together to celebrate the knowledge and skills of our ancestors, and marvel at the work of many of our skilled instructors, the safety of our participants, instructors, work traders, and staff is a top priority. We thank our partner, Abundance NC, and all of our sponsors for their support, and look forward to re-creating this magic next year. If you purchased tickets to the event, look for an email with further details.
---
2020 Instructors
Our instructors come from across the country and bring a lifetime of experience in the subjects that they teach. We are proud to bring them to the Piedmont to share their expertise.
James Clinkscales
James Clinkscales resides in the upstate of South Carolina where he hunts, forages and thrives on his homestead farm with his chickens and goats. Bee keeping, paddling whitewater and flatwater whenever possible are his passions.
  A lifelong primitive skills student and practitioner, avocational archeologist and lover of life, James is always looking for a new adventure in life.
James will be teaching: Flint Knapping and perhaps an atlatl throwing class. Bring your safety goggles and make a flake!
Joan Candolino
Joan Candalino is a tipi-maker and potter living with her blacksmith partner, Tom Strode in Kentucky, practicing organic gardening, composting, rainwater catchment, and heating with wood. She has been a member of the earthskills community for decades, teaching beadwork, leatherwork, tipi living skills, rocket stoves, and more. www.sweetwatertipi.com
Come take a class with Joan on Native American Style bead work , weaving, making natural herbal infusions or Buckskin Sewing.  If you are lucky to arrive at the beginning of our event you can help her raise her Tipi and learn about living in this type of shelter/home.
Nancy Basket
For the last 15 years, Nancy has researched and shared her basketry and storytelling skills at Primitive Skills gatherings, Powwows, through the National Indian Education Association NIEA as a presenter of traditional and contemporary baskets.
The Schiele Museum in Gastonia, NC purchased Nancy's miniature baskets representing many American indigenous cultures to display in one of their dioramas.  Check out her complete BIO
Nancy will be teaching:
Barron Brown
Barron has been making object his whole life. Started forging, casting and carving around 1970 and hasn't stopped since. Earlier than that he started helping his granddad with simple timber frames and other homesteading skills.
Barron will be teaching bowl carving, wooden comb making and netted bags.
Brett Butler
At an early age, Brett craved the truth found in nature, and wanted to leave the modern world behind. After reading 
My Side of the Mountain
 by Jean Craighead George and the 
Hatchet
 series by Gary Paulsen, Brett had the burning desire to move out of the stifling, man-made world of "squares" and into the natural world of "circles". He thrived on wilderness exploration as a young man, venturing deep into the New Mexican mountains, climbing the tallest peaks on the east coast, and finding the remotest nooks in state and national parks that he could find. At age 21, Brett took the leap from the technology-infused, centrally heated, over-glamourized modern world into the natural world, living in a tipi and heating, lighting and cooking with open fire. He has never looked back.
Bret will be teaching: Intro to beekeeping, open fire campfire cooking, friction by fire.
Penny Wayne
Owner of Kentucky leather and hides 
Link
I have been involved in living history for the last 28 years, hand making buckskin clothing and leather accoutrements. Love teaching people, when I'm not doing living history,  I am hunting,  fishing, kayaking with my family and friends. Love meeting new people and making new friendships, looking forward to meeting you all.
Penny will be teaching:
A kids class – Making Medicine bags
A leather belt making class with a hand-forged buckle
Making Buckskin clothing (Pants or buckskin shirt)- All day class.
Doug Elliott
Doug Elliott is a naturalist, herbalist, storyteller, basket maker, back-country guide, philosopher and harmonica wizard. Whether he's singing about catfish, pontificating on possums, extolling the virtues of Spanish moss, pondering the "nature" in human nature, demonstrating basketry techniques, telling wild snake tales or wailing out a jivey harmonica tune, he is known for his lively presentations as well as his broad, practical, scientific and cultural knowledge of the area's many useful wild plants and interesting critters. He has authored five books, produced a number of award winning recordings of stories and songs, and is occasionally seen on PBS-TV and the History Channel.
Doug will offer two Plant walks on Sat and Sunday morning as well as provide an evening Campfire program on Fri or Sat (TBA).
Fuz Sanderson
Fuz is an endangered species biologist, Earthskills teacher, musician and storyteller. He has over 25 years as a wilderness instructor, naturalist, and research biologist for organizations such as 4H, National Wildlife Federation, US Fish and Wildlife Service, North Carolina Wildlife Resources Commission, US Forest Service, US Park Service, and the Green River Preserve. Fuz coordinated the Earthskills Rendezvous for 8 years, and has now founded the Piedmont Earthskills Gathering in central North Carolina. Go ahead, ask him about birds.
Sangoma Oludoye
Sangoma Oludoye is a sacred activist and cultural arts educator. She is an elder of the Primitive Earthskills Leadership Council, Wild Intelligence Year of the Coyote program and a traditional Yoruba priestess and chief of Oyotunji African Village, in Sheldon, SC. She has facilitated women's empowerment retreats and earth camps for youth from a diversity of communities for more than three decades.
Jeff Gottleib
Jeff , MS (in Biology), has been a Naturalist, Outdoor Educator and Primitive Skills Instructor for more than 30 years. He works with school groups, nature centers, museums, scout troops and summer camps, builds full-sized wigwams and longhouses and replicates primitive tools and artifacts for display. His areas of special interest include fiber arts, flintknapping, basketry, edible and utilitarian plants, and nature awareness. He travels widely in the Eastern U.S. teaching at rendezvous, gatherings and historic fairs. He has written a how-to manual on building wigwams, and an instructors' manual entitled Teaching Primitive Skills to Children. His new book on natural fibers and ropemaking is available directly from him. He welcomes correspondence and can be reached via email at argskids@optonline.net, or at 245 Red Dog Lane, Whittier, NC, 28789.
Jeff will be teaching: Cordage, How to see and hear more in the woods, Wild vine spoke basketry, Making a sure fire campfire. He will also be hosting our Trade Blanket on Thursday and Saturday.
Frank Hyman
Professional forager Frank Hyman is certified to ID and sell wild mushrooms in three states. His first sale was a 33-pound lion's mane mushroom. He is a former organic farmer and has a BS in horticulture from NCSU where he studied under the late, great Dr. JC Raulston, for whom the Arboretum is named. Frank writes the only foraging column in a national publication for Paleo magazine. He has taught plant and mushroom foraging at many public gardens like Colonial Williamsburg. In Durham he cultivates a dozen wild edible plants such as ramps and teaches foraging classes that have racked up many 5-star reviews. His book on low-cost backyard chicken-keeping, Hentopia, has just been published and will be offered for sale. Learn more at www.frankhyman.com.
Frank will be teaching:  A plant identification walk  and a class on how to minimize your efforts  when raising chickens as well as a panel discussion on how to 'make a living' as a self-employed craftsperson.
Lily Harlin
Lily has been attending Earth Skills Gatherings from the age of eight years old, taking classes and learning from the variety of wonderful instructors. Now, she is returning as a teacher, ready to learn the new set of skills that it takes to share the knowledge she has gathered. Her hope is that she will be able to share with the students the knowledge that has become one of the richest parts of her life and give them the chance to learn and love the world of crafts people as much as she herself does.
Lilly will be teaching: knife sharpening as well as Kudzu basket weaving.
Steven Snowbear Taylor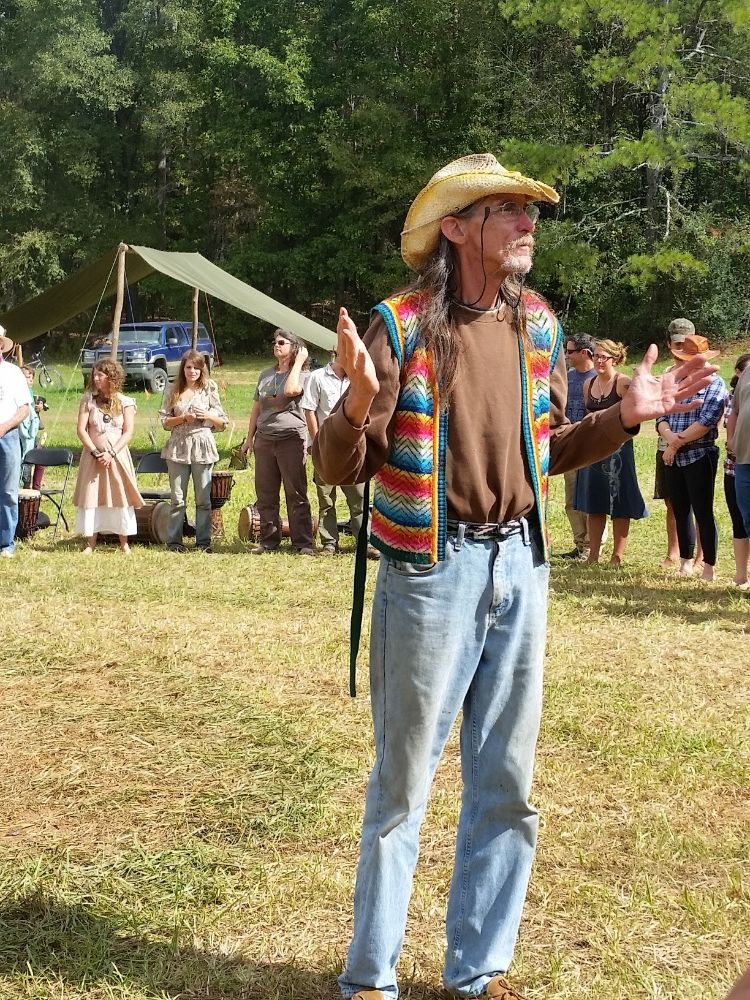 Earthskills are of the hand and eye, yet also of the heart and mind. – Snowbear
He has been an environmental educator for more than 30 years. He's embarked upon a life-long pursuit of knowledge with an emphasis in living skills, medicinal and edible plants, utilitarian uses of plants, and world rhythms. He's studied with elders from the Cherokee, Creek, Lakota, Seminole, and Ojibway tribes. He has been involved with the founding of several environmental education organizations in the Southeast, including Earthskills Rendezvous.
Snowbear will be teaching: Bamboo craft, lead some drumming classes and hold the space for the Ancestral fire.
Matt Hansen
Matt is a self-described maker and do-er of many things wilderness-y, I love exploring new areas and finding at least one "efficient" way to hang it, scrape it, eat it, launch it, dance upon, relax into, slicedicesplicefillet, harvest and/or have fun amongst….sometimes as uncivilized as possible. sometimes noshing a carne asada burrito like the rest of 'em. at rivercane I hold it down at the bow tent where we use tools with the intention of flinging objects forward, but would love for my attention to be diverted to other subjects I'm interested in including survival, fishing, ethnobotany, anthropology, forestry, ecology, h/g culture, and the eating-preserving-fermenting of food.
Matt will be teaching hide tanning.
JT Stokes
Eco-minded since childhood, JT majored in environmental studies and worked in the arena of climate mitigation policy. Heeding the call, she decided to change course and explore a more hands-on approach to living in harmony with the land. Since 2015 she has been a student in the areas of electricity-free homesteading, herbal medicine, and permaculture. From bushcraft apprenticeships to full-time vegetable farming, each season brings a new chapter. This year JT is living and studying at an off-grid permaculture , herb sanctuary, and nature school.
JT still keeps a foot in the non-profit world and serves as the coordinator for two councils that focus on diversity in conservation.
JT will be teaching : Beeswax Candle making
Bill Parravano
AKA the Knee Pain Guru, Bill has over 25 years of martial art and bodywork experience understanding movement and tensions patterns that lead to physical pain.  Bill will be teaching several classes aimed at equipping you to recover from injuries and understanding how the nervous system works.  In addition, Bill will be teaching some practical on the road skills  involving Defunct Animal Recovery. (see our class descriptions for more details.
Bill will be teaching:  Defunct Animal Recovery Strategy, Body Reflex hacking – Speed Healing from New Injuries and Ancient ones, Functional Movement (Breathing and Relaxation),  Working out the kinks (Neck & Shoulders)
Christopher Watts
Critter (Chris) will be teaching knot tying, tarp securing etc.
Alex Howe
Alexander Howe is a passionate herbalist and flamboyant performer. He has been adventuring South(ern) Africa for much of the past decade, and attending Gatherings at home whenever possible. He was gifted the moniker Bush Ninja while having many wild African experiences while honing a number of interesting travelers' survival skills and crafts. Including fire dancing/flow arts, teaching practical herbalism techniques, making artisan salve, and South African mysticism and traditional healing. He's delighted to be sharing these passions, as well as offering a special rendition of The Lorax around the campfire, and an inflammatory fire dance to accompany the music!
Don't forget to see the amazing African treasures he has for trade!
Alex will be teaching: Beginners Poi, Flow Arts, and Safety First Fire Dancing, Artisan Salve Making: For Humans with Skin , Mhuti, Medicine Plants, and Mysticism of South Africa. A taste and smell show and tell.
Alex will also be leading an evening tea time for first timers on Thursday and Saturday after the PM classes, before dinner.
Stephanie Davis
Stephanie has been studying all things homestead and primitive culture related for over a decade now with her interests primarily focusing in the creative and agricultural themes. It has always seemed like a great mountain adventure; with every plateau there is a realization that there is always another level to be obtained, another goal to reach. And for the past five years she has been building up her own homestead full of chaos, critters, lots of hard work and happiness.  She and her daughter have been attending gatherings for more than a handful of years now, primarily participating in roles of work trade and child care. This gathering she will be offering a basic sewing class focused on how to use those stitches in mending our own clothes. If we are living in the woods or on a homestead, the ability to take care of our things and make them last is a very important skill to have!
Stephanie will be teaching natural Dye (Shabori with Indigo) as well as some practical mending skills.
Gray Taylor
Raised in NC , Re-wilder, Feral child wrangler, Homesteader
Crafter @ GetRad
Gray will be teaching some riveting classes at this years gathering.  Making a knife (blade is handforged by Gray) and Making a knife/tool sheath using riveting techniques.
Rain Hall-Taylor
A true homesteader from the Piedmont.  Bringing her own personal experience from her own homestead she will teach you all about buckskin and how to sew and design clothing with it.
Rain will be teaching : Bucksin Sewing 101 and Pattern Making for Buckskin Clothing and Accessories.
Rabbi Robin Damsky
Rabbi Robin Damsky is the founder and director of In the Gardens. It brings organic, edible, permaculture garden design to communities locally and nationally, and teaches meditation and mindfulness practices to enhance personal well being and cultivate kind and compassionate community. She received her rabbinic ordination from American Jewish University, and a Masters in Jewish education from the Jewish Theological Seminary. Robin is a certified mindfulness meditation teacher, having studied with the Institute for Jewish Spirituality and the Awakened Heart Project. Her BFA in dance and her license in medical massage add the aspects of embodiment, health and wellness to what she brings. http://inthegardens.org/, https://www.facebook.com/rabbidamsky/
Rabbi Robin will be teaching: Mindfulness/ Meditation with earth music and "Eat for Two (or more) from Your Own Organic Garden" A single  4 x 8 raised bed can feed two people!
Bob Orcutt
Bob has been interested in primitive skills for most of his life.   In 1999 he took a class from Chuck Patrick at an Earthskills gathering.  He was so intrigued by turning an old file into a flint and steel set that he joined his local blacksmith guild the day after he returned from the outing.  He remains active in the guild serving at various times as board member and vice president.  He has taken a few classes at the Campbell Folk School in Brasstown, NC and enjoys turning a piece of steel into a useful item.  Among his favorite things to make are various hooks, bottle openers, small neck knives, tomahawks, outdoor fire sets, and tools such as punches, chisels, tongs, and his own blacksmithing hammers.
Bob will be teaching Intro to Blacksmithing, Small neck knives or small pack axe (2 part class), Making buttons from coins.
Alex Kilgore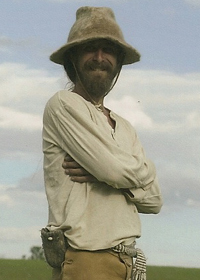 Alex has been learning and teaching primitive and traditional living skills since 1995. He began with a formative apprenticeship with Steve Watts, the founder of the Society of Primitive Technology and director of the Aboriginal Studies Program at the Schiele Museum of Natural History.  In 1997, Alex completed his degree in Outdoor Experiential Education at Appalachian State University.  He has worked and taught at Earthcamp, Earthskills Rendezvous, Mountain Quest, LEAF Festival, Wild Abundance, Mid-Atlantic Primitive Skills Gathering, and Florida Earthskills, as well as in public and private schools. Alex lives in a strawbale house that he built on his off-the-grid homestead in the Blue Ridge Mountains. He prides himself on continually learning and improving upon his skills in order to practice a more sustainable, self-sufficient lifestyle.
Alex will be teaching: TBA
Hawk Hurst
Hawk Hurst has a real passion for Native American-style flutes and drums. He has been playing and crafting them, as well as teaching others how to create their own, for three decades. Originally self-taught, Hawk is forever grateful to the assistance he received in learning to craft flutes, from both Eddie Bushyhead, Oreo Van Doren, & Hawk Littlejohn. His playing was influenced by his good friends, Snowbear Taylor and Frank Chambless, in addition to, the early recordings of R. Carlos Nakai and Bob Two Hawks. Hawk first studied Native American-style drum making, in 1987, with Northwest Coast drum-maker, Jim Hickey. Hawk's educational background includes a Masters of Science degree in Environmental Education from Lesley College and the Audubon Expedition Institute, as well as undergraduate degrees in Psychology and in Political Science from the University of Oklahoma. He is a nine time recording artist and is the author of two published children's books.
Hawk will be teaching: River cane and bamboo flute making class as well as a Native American-inspired storytelling/drumming/flute planning session.
Julia Moore
Julia has had a love for nature, the arts and the sciences for many years. She has a passion for teaching others about the art of field sketching and botanical illustration. Julia studied medical and scientific illustration as well as biology and has worked with various medical and scientific companies creating illustrations that explain complex scientific processes. Her work has been published in the 2018 ASAM textbook, The Scientist magazine, Current Biology, international magazines and multiple other publications. She has taught at the ERAFRANS teacher certification class, various galleries and local parks on field sketching.
She hopes that her students will gather new drawing skills, art and nature philosophy and have a good time while connecting closer to nature through art!
Learn more at : mooreillustrations
Julia will be teaching Nature and Botanical Field Sketching.
Robert Timberlake
Robert has been blacksmithing since 1971 when he started shoeing horses. Realizing early on the possibilities of the blacksmithing part of farrier work and that turning horse shoes does not require much
imagination he began exploring blacksmithing more in depth. While earning a BFA in wood and metal design he started smithing in earnest and branched into bladesmithing. While in design school he attended several blacksmithing classes at Campbell Folk School and was invited back to teach several times. Upon taking a job with Duke University he approached the Duke Craft Center to inquire about starting a blacksmithing program and ended up teaching there for the next thirteen years. Robert is also a charter member of the North Carolina Artist Blacksmith Association and remains active with this group. With rookie students he starts with basics; a good working knowledge of basics is applicable to all facets of blacksmithing. A class will start with an emphasis on basics and proceed to applying the basic techniques toward finished products.
Member of the NC ABANA, with decades of experience, Robert breaks this craft down to the basics and teaches these principles allowing you to take your experience to the next level.
Robert will be teaching: Beginning Blacksmithing
Jamie Sparks
Jamie is a spinner, felter, jeweler, herbalist and massage therapist.  She  got hooked on fiber nearly 20 years ago, when studying and living at the John C Campbell Folk School.  Since then Jamie has been found studying, creating and teaching fiber based experiences varying from Earth Skills events, Echoview Fiber Mill, Penland School of Craft, John C Campbell Folk School and  felting in any empty horse trough or bath tub she finds.  She teaches children and adult programs, wherever there is curiosity in the craft.  When not teaching fiber, she can be found playing or teaching the flora and herbs of Appalachia, rubbing sore muscles or talking someone into dancing with her.
Jamie will be teaching: Get Spun: Spin wool on a drop spindle as well as Begin Wet Felting (Felted Pouch)
Jonathan Handelman
A skilled life coach, teacher and group facilitator.
Jon will be teaching: Starting a land based Community, Understanding your emotions, Sacred Intimacy and the Five-fold way to forgiveness.
Kevin McGee
Host of many Carolina Bushcraft camp outs and survival classes, Kevin will teach you the body mechanics for making the most effective power cuts with your knife.
Kevin will be teaching: Sloyd woodcarving, a Scandinavian technique as well as building a primitive shelter and the modern version of that i.e tarp shelter.
Leif Robert Diamant
Leif Robert Diamant Is a lifetime student, teacher, and lover of Nature. He is also a licensed psychotherapist, ordained interfaith/interspiritual minister, organic farmer, and small forest steward.  He began teaching edible and medicinal wildplant classes in the 1970s and has taught at the North Carolina Botanical Gardens, UNC, Duke and throughout the state. His work has shifted to the intimate experience of Nature as an essential part of wellbeing, survival, and thriving for humans and the planet. Sacred Ecology and Nature Spirituality  are ways to connect with and experience Nature as Teacher about Life and Death, Creative Source, Healer, and Beloved. Leif teaches popular classes at Shakori Hills Grassroots Festival, and has taught at the Death Faire and also Climate Change Conference in Pittsboro and at Warren Wilson College and NC Annual Professional Counselors Conference and the previous five Piedmont Earthskills Gatherings. He lives and tends on a 42 acre farm/forest in Silk Hope.
Leif will be teaching: Wild Walkabout : Nature Spirituality, Sacred Ecology, and Intimate Connection with Wildness. and Nature Spirituality and Sacred Ecology:
Christopher
Christopher is a primitive skills junkie with a passion for making fire. This pyromaniac enjoys blacksmithing, making fermented foods and drinks, felling trees, tracking and building things with stone. He learned many of these things when he lived off grid for over four years. He currently lives in Cary, North Carolina.
Christopher will be teaching: friction fire.
Scott Sullivan (Sully)
A professional musician, artist, forager, and earthskills enthusiast.
He began his love of earthskills in the early 90's while traveling and adventuring through the country's wilderness and occasionally plugging in at rainbow gatherings along the way.
He's been playing percussion most of his late teen and adult life and has been a student of eastern and middle eastern music since the early 2000's. He began teaching percussion in 2009.  Around that same time he took an interest in leather-work where he began making his own shoes and began teaching leather-work a few years later.   He's been teaching leather-work and percussion at regional earthskills gatherings for the last 8 years and takes a great love in sharing his knowledge with others.
Sully will be teaching:  Percussion Class and Leather Wallet Making
Other Instructors:
Keith Grenoble- Teaching Making Pottery, firing pottery with a campfire kiln.
Grant Atkinson
Grant will be teaching: Charceurtie, meat preservation
Tod Kershaw
Tod will be teaching: TBD